I'm going to show you how to create a simple sales funnel for delivering your Lead Magnet. I'll be using Convertri for this demo.
I started with this simple Info product sales funnel for this demo. It has a whole bunch of components. It starts out with the optin page, the thank you page, the sales page, checkout page, upsells, downsells, and more. All of these are connected in the funnel system. I've disconnected them on purpose here. So it contains absolutely everything for an elaborate funnel.
This is going to be a very simplified funnel. We'll do an advanced one later, but this is going to be a very simplified funnel. I'm simply gonna have people opt in and then I'm gonna take them to a download page that has an introduction to a sales piece on it.
I want Convertri to deliver my lead magnet. That's my opt in promise. I'm having Convertri host and deliver that. I'm going to show you how to do that in less than 10 minutes.
So what I've done is I've created this little lead magnet here. It can be anything. This is a mock up. But it has a purpose. It is to remind you that you must sell your lead magnet. Always do this, I didn't put any bullets here other than just to remind you that you need to have really good bullet points. (We will talk about Bullet points in another post.) You need to have a great title for your lead magnet and you need to have a visual for it. So I've just dropped those elements in here so you can see them.
This is the bare minimum you need to deliver your lead magnet.
You must always have:
A good visual of your offer
A Headline that agitates a problem, makes an amazing promise, or tells a story
Bullet points that "Sell" the offering
An optin form connected to your

autoresponder
The form has to perform two key executions. It has to put the person on your list and it has to deliver the lead magnet. In Convertri this is done seamlessly using two important steps. This require two very simple pages. The connecting piece however, is in the form. So let's focus on getting that right...
This is the form feature in Convertri. It contains two tabs that we will use for this delivery.
The first is the autoresponder. This is where you identify your autoresponder and the list that you want the person on when that optin. (We'll not get into autoresponders in this post, but you need a basic understanding of how to leverage this important tool.)
The second is the post submission redirect. This is going to redirect your visitor to the second page that will deliver your promise. I always begin with that page so it has been published and the link is active so it will be offered here.
I'll walk you through the process here, this is the way it looks when it's finished.
You now have a fully functioning optin page. A page that allows you to capture a visitors email address and then redirect to a second page that delivers the promise of the optin. But that second page does more than deliver the promise. It also offers the next step in the funnel.
Check it out...
Again I have removed all of the typical sales language for this demonstration (that's where the magic is). Noticed that the first thing the person is presented with is the fulfillment of the promise. This is your first touch with the person. Make this first touch as positive as possible.
I follow a simple sales philosophy that makes the buying process as customer-centric as possible. I want the person to get to know, like, and trust me as quickly as possible. So this has to be a positive experience. I can't take them from a free lead magnet to a $997 coaching program in a single bound.
I can deliver on a simple promise. THEN make the next touch meaningful.
This is the key. I have put the download button on this second page. Underneath that download box in my video sales letter. That's the piece that I want people to get. Okay! So when I click on download, a couple of very important things happen.
They are forced to download the promise. They are then presented with the sales video. The download happens in the background and the sales video is presented with call to action above the fold.
Now they've downloaded my pdf file, which was that lead magnet promised on the optin. Then they are presented with this video facing right here.
This is going to be really important because I have delivered my promise. I didn't give them the option of clicking out. What happened was once they downloaded, they were taken directly to the sales video. It doesn't have that same funnel look and feel that people have come to expect.
This works very well to capture people's attention. When you click on the video, the video will play. The button can go to a sales page, checkout cart, Facebook group or any other action you want them to accomplish.
Here's how you create that Download Layer
This is where you really make things work. When I click the X it disappears, but they just lost their ability to download. So you want to make sure that they download what they opted in for. Let me show you how we do that. We're going to use a layer to do this.
Notice you see this layer. Layers are really a very, very valuable part of Convertri and I love them. So let me show you how to create a layer. The first thing you do is click on the layer. And the next thing that you do is you create New Layer.
Let's create this layer,

Click the "Visible" icon and pick the color of the layer overlay and set the transparency. Next make sure you set this layer so it starts out loaded on the page. You want the layer visible when the page loads. This is important to making the delivery funnel work. Each icon presents the feature as you mouse over it.
Now add a panel. This will be your download box. You can set the color of the panel and the color of the border (if you want a border).
Now it will look like this...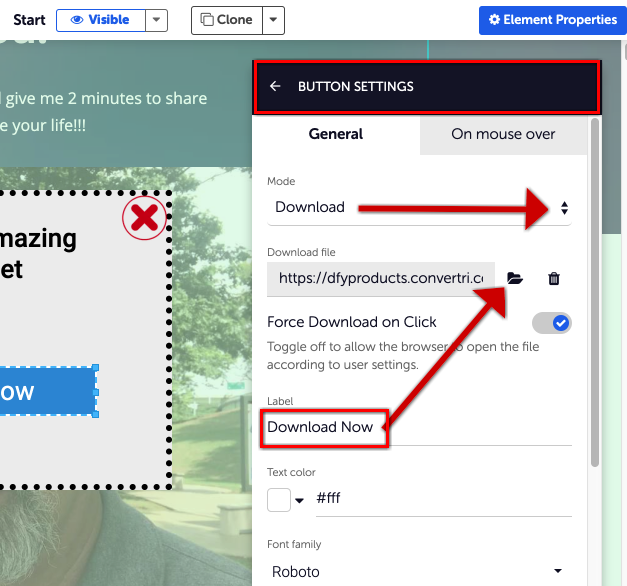 Because the page is static I prefer to make the button change color when you mouse over it as you see in the image above. This encourages action.
The button is added from the form element in the left menu. Then you set the button to perform this action. "Download" you want to be sure that you force the download of you promised document with the click action on the button. Convertri will host the download and deliver it with the click of the button.
This is the only necessary action on that layer so when "Download" is clicked the layer will close and leave the remaining sales video visible.
There you have it a simple lead magnet delivery system.
Don't forget this simple detail...
Continue to deliver on the promise of the lead magnet.
Whatever promise you made in the lead magnet make sure you deliver that value by linking back to your site/landing page or quiz funnel things that will continue to deliver value to your new lead. Hyperlink to other features that add to the promise of the lead magnet. Use an inline call to action of a final CTA at the close of the document.
Once you have the lead on your list have an automation in place that makes several touches to them over the next few weeks continuing to build value. See our Ultimate Email Marketing Guide
Here's the Video Presentation...
<iframe src="https://player.vimeo.com/video/339201691" width="640" height="564" frameborder="0" allow="autoplay; fullscreen" allowfullscreen></iframe>
Attend the Weekly Power Hour
We take a topic like this apart
Every Wednesday ay 1:00pm CDT